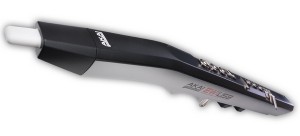 Suppose you want to play EWI. But you don't want to play the Studebaker one. And you don't particularly need nor want to visit the 70s and early 80s with the Analogue synth found in the EWI4000S.
Fear not, Akai has heard your pleas.
" Akai Professional, the name synonymous with music production, announces EWI USB, its latest wind controller, is now shipping.
EWI USB enables anyone, regardless of wind instrument-playing experience, to perform with the expressive capabilities of the wind instrument of their choice. The wind controller features a plug-and-play USB interface for use with the included Aria software with Garritan and Akai Professional samples as a sound source. EWI USB is Mac and PC compatible."
They also have more detailed information on their website now. People who want to pretend they play Cello, or Oboe, or whatever will be delighted with the Garritan Aria player that comes with the EWI USB. List price is $299. Not a bad deal.
I somehow think Akai has good humor in announcing this on Halloween.