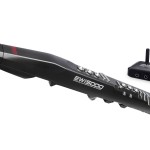 For the Winter 2014 NAMM show, Akai has announced a new EWI.
EWI 5000 comes loaded with more than 3GB of top-quality sounds, including traditional horn, brass, woodwind, and string sounds, plus progressive synths, leads, and other non-traditional sounds. EWI 5000 includes 12 touch-sensitive metal keys on its top and an eight-wheel thumb- controlled octave roller on the bottom. An EVI (Electronic Valve Instrument) Mode is included for brass players, and EWI 5000 also includes eight control knobs for tweaking Filter, Reverb, Chorus, LFO, Breath Amount, Bite Amount, Semitone Tuning, and Fine Tuning. Both USB MIDI and 5-pin MIDI are onboard for controlling software synths or traditional MIDI modules. A 1/4- inch output to connect to an amplifier or PA and an 1/8-inch headphone output for silent practice are included. EWI 5000 charges via USB or wall power and also includes a USB cable, wall adapter, wireless receiver, and a neck strap.
So, basically, an Akai 4000s with USB, a built in rechargeable battery, and some sounds.