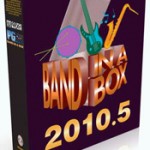 PGMusic just released Band In A Box 2010.5 for the Mac. Improvements? Yes, several. Here are a few that I think are noteworthy:
Styles can now be made that are set to use Half-Time and Double-Time RealTracks. For example, you can make a Jazz Ballad style (tempo 65) that uses a Sax Soloist at tempo 140 (playing double time).
For RealTracks, many Jazz comping styles now play triads (instead of 7ths) when simple triads are entered, instead of "jazzing them up" to 7ths chords (e.g. Guitar: Freddie, Wes Piano: Some Jazz. All Stride, Rehearsal). If you prefer this "the old way", where triads are automatically "jazzed up" when comping using Jazz RealTracks, then you can set the Prefs-Realtracks settings option to force 7ths for triads.
Plus, you get a bunch more RealTracks. One of the Paks comes with some B3, and other has some excellent Jazz Guitar.
Is it worth the money? Yes, I think so. It is a great tool for musicians who want to practice 50 choruses of soloing…..at whatever speed……in whatever style……in whatever key. Or perhaps you've like to figure out some chords for a song you were working on? Done. BinaB can help you there. Or maybe figure out what chords were played in a song? Yep, it can help you there too. So many uses for this program…..it should really be a REQUIREMENT for a Musician to own it.
UPDATE: A few of the RealTrack Saxophone tracks are Eric Marienthal. How cool is that???