I think this is a REAL product coming from Bari Woodwinds. Um…..interesting I guess….though why you'd want this…..I have no clue.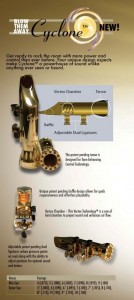 I almost won this item on ebay. A Chedeville Oboe Mouthpiece.
Wow. It got to pricey for me. Plus I just had to shell out a lot of money to the IRS. 🙁 Interesting discussion about it here. Seems it isn't so great. Looks kind of cool though. Probably would help out some poor doubler out there than wanted to add oboe to his weaponry.
Here are some pictures taken off the auction
I saw this on the Klarinet list

"I just received a note from a repairman friend which said that Ralph Morgan passed away on August 23rd. Ralph worked at Selmer for many decades and was brilliant at mouthpiece design and instrument acoustics. He retired many years ago and concentrated on just mouthpieces.

As a maker, I just wish folks like him left behind research notes for the rest of us to learn from!

Dave

Dr. David McClune
University Professor of Music
Director of Bands/Woodwinds
Union University-1862
1050 Union University Drive
Jackson, TN 38305

Office-731-661-5294
dmcclune@uu.edu
www.mcclunemouthpiece.com