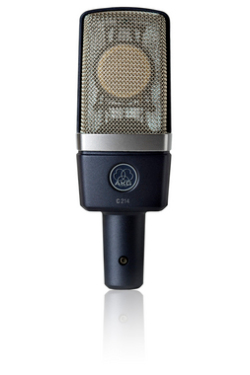 AKG has a new mic out, the AKG C214. From the press release:
Based on one of the most successful studio mics released by AKG, the C 414 model, and using all the feedback that during 30 years they have received from its users (maybe they could release a new version earlier, but…), AKG has released the C 214 Condenser Recording Mic, that includes some of the features of the models which is based on and some improvements that does not make it a expensive mic affordable only for big studios.
The AKG C 214 Recording Mic is a single capsule model that features cardioid polar pattern, 20 Hz to 20 kHz frequency response, from 12 to 52V phantom power, 1" edge-terminated large diaphragm, ultra low noise circuit (that includes a suspension to reduce the mechanical noise), rugged double mesh grill (to protect it from high radio-frequency signals), switchable bass cut filter, switchable pre-attenuation pad (up to -20 dB) and 3-pin XLR output.
This mic is specially good for vocals and miking instruments or amps, both in stage and studio, and comes with a shock mount and a carrying case. The AKG C 214 Recording Mic will be available after the AES show and its price will be $600.
I have two C414s (a ULS and an EB…..don't ask why I need two, I just DO….or think I do). Honestly, I can't think of the last time when I put them OUT of cardioid pattern.