There are already several apps for the iPad for viewing sheet music PDFs, including apples iBooks. It makes sense, the iPad is just about the right size for viewing a page of music.
Now, there is a mount for iPads.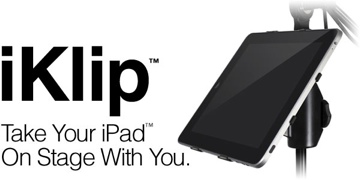 $39.95. Now we just need a Bluetooth foot peddle page turner…..for that price….
And for saxophone players, if you use this with a microphone stand, this also solves the problem of how to hear yourself….as in the iPad should provide some reflection of the sound back at you if you have it just above the bell. Wonder if that would mess with the microphone capturing one's sound correctly…..I should get one and try it out….
UPDATE: Oh, the foot switch is coming!